If you are homeless in Stark County:
Call the Homeless Hotline at
This will secure a place in line for assistance through
housing providers, including ICAN Housing.
For help, contact our office at:
1214 Market Ave. N.
Canton, OH 44714-2604
1214 Market Avenue North, Canton, OH 44714

Open 8:00a.m. to 4:00p.m. Monday through Friday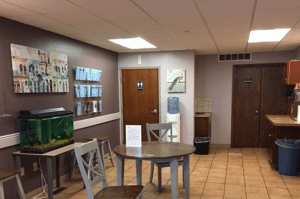 The ICAN Housing Drop-In Center is open weekdays from 8:00a.m. to 4:00p.m. Our DIC is a warm and welcoming respite for those in homelessness. There are pamphlets and literature geared towards helping those in homelessness available in the Drop-In Center and there is immediate access to other services as well.
ICAN Housing has the only street outreach program in Stark County. Outreach workers cross the county in search of people who are homeless and offer help. Outreach links those who exhibit symptoms of mental illness to behavioral health agencies for assessments and services.
Our outreach team engages people who are homeless and connects them to housing and services as well as helping them address basic needs.
Our team acts like a concierge providing one-onone support to help participants navigate systems, enroll for benefits, obtain a state ID or a copy of a birth certificate, identify pantries and hot meal sites, access clothing, attain mental health services, connect to case management and counseling services and remove unique barriers to housing.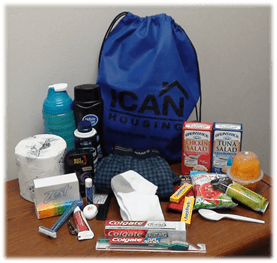 HOMELESS CARE KITS
Care kits contain hygiene supplies, clean socks,
Snacks, toilet tissue, can openers and more.
Support a care kit with a donation of only $35.